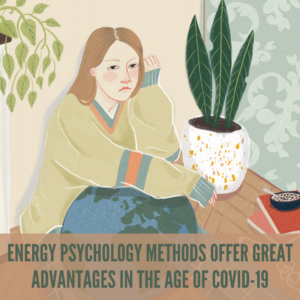 We are living in unprecedented times, as the world grapples with the covid19 pandemic. Many people are experiencing fear and worry about catching the virus and getting sick. Televisions across the world beam images of overcrowded hospitals and overburdened healthcare professionals. There is a real concern that necessary equipment is not, and will not be, available to protect and care for those in need. Meanwhile, many countries are addressing the pandemic by instituting lockdowns, keeping people in physical isolation. The impact on social and economic life is profound. The need for mental healthcare is growing.
Energy psychology practitioners are uniquely positioned to help. Research demonstrates, time and again, that energy psychology methods can very effectively address anxiety, depression, and posttraumatic stress. Even more strikingly, recent research suggests that energy psychology can boost our immunity, and thus may help keep us from getting sick.
Online Delivery
The world is stressed, distressed ― and online. Energy psychology practitioners are used to helping clients manage anxiety and stress. Thanks to technology, we are able to deliver our services online. The question arises: Are online energy psychology sessions effective?
The first research study looking at this says yes, at least for Emotional Freedom Techniques (EFT). Peta Stapleton and her colleagues recently published a study showing that EFT delivered on-line was effective in helping clients lose weight and decrease food cravings. You can read more about that study here.
Energy Psychology for Anxiety
The increase in anxiety is making it plain to many people how valuable emotional health can be. There is a real need for efficient tools that address anxiety. Energy psychology has a great track record. But we don't want to be partisan, so it's a good idea to look again at the research.
In 2015, Morgan Cloud, MD, PhD, published a meta-analysis of studies examining the effectiveness of EFT for anxiety. People who received EFT treatment demonstrated a significant decrease in anxiety and outperformed the various control treatments. The effect size for EFT was 1.23, whereas the combined effect size for the control groups was .41. (To put this in context, 0.8 is a large effect size, which basically means that EFT had a very large impact on participants.)
Energy Psychology for Posttraumatic Stress
Many people may be experiencing posttraumatic stress during these times, particularly those on the front lines. Energy psychology, especially Thought Field Therapy (TFT) and Emotional Freedom Techniques (EFT), have a great clinical track record in treating posttraumatic stress.
There is a growing body of research to support energy psychology. Enough research, in fact, that in 2017, Sebastian and Nelms published a meta-analysis of studies of the effectiveness of EFT to treat PTSD. The analysis found that EFT was effective in relieving symptoms of PTSD in as little as four, and up to ten, sessions. The analysis included seven randomized controlled trials and found an eye-popping effect size of 2.96 among the studies that compared EFT to the waitlist or standard care.
Energy Psychology Methods May Boost Immunity
As the world reacts to the pandemic, almost everyone is interested in ways to boost our immune systems. Mind-body methods are gaining acceptance in the West, as more research shows that they are effective. People are increasingly aware, for example, that meditation can increase immune function. What does the research show about energy psychology?
Recent research suggests that EFT can have a positive effect on our immune system function. Several studies show that EFT reduces cortisol levels. One study showed that EFT catalyzes gene expression to boost immune function. A recent study measured physiological markers of more than 400 participants using EFT and found that they had significant declines in anxiety, depression, PTSD, pain, and cravings, as well as a boost in happiness. They also had increased salivary immunoglobin, a marker of immune function, and decreased cortisol, which is a stress hormone that suppresses the immune system.
You may have noticed that most of the research I mention here is focused on EFT and TFT. While there are many more methods that make up the family of energy psychology, most of the research to date has focused on these two methods.
You can access comprehensive bibliographies of the research on the ACEP website's research section. It is updated at least once a year.
Bottom Line
Energy psychology methods offer some great advantages. Effective during sessions, they can also be used as self-help tools. This means that our clients can use these tools themselves between sessions, which is empowering. Energy psychology methods also offer fast results, and the results are durable. Energy psychology methods are flexible in delivery. They can be delivered one-to-one, in groups, in workshops, and online. They are safe and have no side effects. They are cost-effective. Best of all, they are highly effective. They are becoming more and more popular all the time ― with good reason!