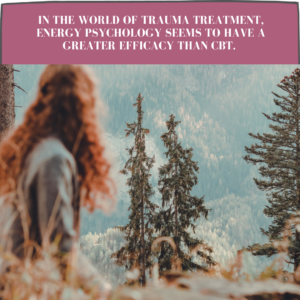 Here's a little nugget from the research on energy psychology, also known as cognitive somatic energy practices. Thought-field therapy (TFT) is a well-researched form of energy psychology. Cognitive behavior therapy (CBT) is a popular and widely researched modality in the world of mental health. Each modality has its place in therapeutic settings.
However, in the world of trauma treatment, energy psychology seems to have a greater efficacy than CBT. Our colleagues in Kurdistan, Iraq, along with ACEP member Suzanne Connolly, recently published a study that illustrates the point.
Study participants live in Garmian, a region that has experienced genocide, chemical attacks, displacement, and violence. Predictably, people who have survived these things seem to have high rates of mental health problems. In fact, researchers believe that as many as 20% of people in post conflict settings such as Garmian experience mental health disorders.
The study is small and we need more studies before drawing big conclusions. But these results are compelling!
What did they study?
Pegah Seidi is a psychotherapist and lecturer at Garmian University in Kurdistan. She treated 31 people with trauma symptoms, using either CBT or TFT.
The Garmian region has experienced a lot of violence, atrocities, and political upheaval. Many people in the region are suffering from trauma-related mental health problems. There is poor mental health infrastructure in the area, and there is a huge need for high quality, easily delivered, and cost effective mental health services.
What did they find?
The CBT group had 13 participants. Their symptoms stayed the same or even worsened. Some participants dropped out of the study.
The TFT group had 11 participants. All participants experienced an improvement in symptoms.
A third group with 7 participants received CBT and did not improve. They then switched to TFT, and their symptoms improved.
Overall, people treated with CBT did not fare well. This is not surprising to me. Fifteen years ago when I was in grad school, my research "pet project" was trauma. The literature in those days was filled with CBT studies with poor results and high dropout rates. This is why I searched outside the mainstream and found energy psychology.
Today, with results like this, I dream of having energy psychology techniques become part of the mainstream. Don't you?
What is the significance of this study?
Energy psychology is among the top ten psychotherapeutic techniques in terms of research. This small study adds to our understanding of its benefits and effectiveness. As Bessel Van der Kolk thoroughly explains in The Body Keeps the Score, cognitive therapies do not seem to move the needle on trauma, but involving the body does.
This TFT study adds to our understanding that energy psychology is effective for treating trauma. You can request a copy of the study here.
More research will help move the field of trauma therapy forward.
To see how energy psychology can work for you, set up a free 20-minute conversation with me.